Spring Activities in Cincinnati, OH
As the weather warms and flowers bloom, it is the perfect time to head outdoors, sit under the sun, and enjoy nature. When you're ready to catch a few rays and breathe in that fresh Cincinnati spring air, there are many options for you and your family to have an enjoyable time and build lasting memories. Whether you are from Cincinnati or just visiting, knowing the best spots to visit and having activities in mind will help maximize your time outside. Read on to learn about our list of the five spring activities in Cincinnati. 
Tunes and Blooms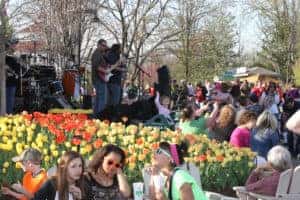 The Cincinnati Zoo and Botanical Garden is hosting their annual Tunes and Blooms event on Thursday evenings in April, which is a great way to celebrate the end of winter. As a guest at this event you'll experience some of Cincinnati's most accomplished musicians and accomplished performers playing together in the zoo's beautiful gardens.
Come spring every year, the zoo transforms into a burst of colors with vibrant flowers and foliage covering the grounds. Recognized as one of only two accredited botanical gardens in Ohio, the zoo is home to one of the largest tulip displays in the Midwest. Known as "Tulip Mania," the display boasts over 100,000 tulips in every imaginable color. 
You'll find the Cincinnati Zoo and Botanical Garden at 3400 Vine Street. Tunes and Blooms begins on April 7 and will run each Thursday until the end of the month. Entry to the event is free with your zoo admission. Tunes and Blooms runs from 5 to 8:30 p.m. with music starting at 6 p.m. Visit the website to see scheduled musicians for the day you plan on visiting. For information, call (513) 281-4700.
Smale Riverfront Park
Smale Riverfront Park sits along the Ohio River at the base of Roebling Suspension Bridge. Established in 2012 with the intention to reconnect downtown to the river and with the riverfront parks to the east, the amazing 45-acre park is conveniently located between Paul Brown Stadium and Great American Ballpark and features several playgrounds. 
The kids will enjoy a fun day of swinging on the playground and running around with their friends. They'll burn off some much needed energy that they stored up all winter while you relax under a shaded tree. If it's a hot day, bring the sunblock and swimsuits so the kids can cool off in one of the splash fountains. It can get slippery, so make sure to have some water shoes or something with grip to help the kids stay safe. 
While you're there, be sure to stop by the monument that pays tribute to the Black Brigade. The fixture recounts the story of the African-American men who voluntarily served during the Civil War and lists all 700 names.  
Smale Riverfront Park is on West Mehring Way, just south of 2nd Street. Daily rates vary from $5 to $20. For more information, call (513) 357-2604.
Glenwood Gardens
Glenwood Gardens is one of the best-kept secrets of Hamilton County. Lush with beautiful landscaped trails, formal gardens, prairies, forests, and wetlands, it is the ideal location to visit at the start of spring. The 335-acre park has a 1-mile paved trail, perfect for a leisurely stroll. If you have a future botanist, the 1.6-mile nature trail is a great walk to support their learning and let them explore the native plants and trees of the area. Because the trails don't allow bikes, skates, or scooters, these walks are toddler-friendly and can be taken at a slow pace. 
Don't miss the Highfield Discovery Garden. This 12-acre section of Glenwood Gardens is an imaginative and whimsical area that both the young and young-at-heart can appreciate. As though taken right out of a fairy tale, the entire area is full of nooks, crannies, fairies, and mythical creatures. Guarded by a dragon with eyes that light up, the park has a giant hat play structure that little ones can crawl into, a 25-foot discovery tree, and a train track.
You'll find Glenwood Gardens at 10397 Springfield Pike. The park is open daily from dawn till dusk. For information, call (513) 771-8733.
Mitchell Memorial Forest
The Mitchell Memorial Forest is a cyclist's dream. Featuring Hamilton County's first official mountain-bike trail, the park also has a 1-mile nature trail, a playground, and picnic areas for non-cyclists. The challenging 8.1 mile mountain-bike trail is divided up into two different parts: Trail A is an intermediate trail with moderate-to-steep terrain, while Trail B is for advanced riders with several technical features.  
Great for a family outing, there are several picnic areas throughout where you can bring sandwiches and snacks and enjoy the beautiful spring weather. If you want to go for a hike after lunch, Mitchell Memorial Forest features the 1-mile Wood Duck Nature Trail which is perfect for animal-lovers. Keep your eyes peeled for barred owls and white-tailed deer. Anglers will also enjoy the ability to practice their cast in the River Hill "catch-and-release" fishing pond. 
Mitchell Memorial Forest is located at 5401 Zion Road in Cleves, Ohio. For information, including fees and licensing regulations, call (513) 521-7275.
Bonnybrook Farms
If you don't mind a short drive, Bonnybrook Farms is a favorite among Cincinnati locals looking to get out of the city and experience farm-life for a bit. Founded in 1967, it was originally known for being one of the best equestrian centers in the Midwest. Since then, the 370-acre working farm has evolved into a fun and educational place to visit when the weather starts to warm up and you can't wait to get outside. With fishing ponds, wagon rides, pony rides, golf, and archery available on the grounds, there is a little something for everyone.
The farm awaits your visit at 3779 State Route 132 in Clarksville. For information, or to learn about renting out the venue, call (937) 289-2500.
So there you have it. Performance Kings Honda has just shared with you our list of the top five spring activities in Cincinnati. These make for wonderful experiences to help welcome in the warmer weather. What do you think of our list? Did we miss your favorite way to celebrate spring in Cincinnati? If we did, let us know. Leave us a message sharing your ideas and we'll be happy to check out your suggestions.