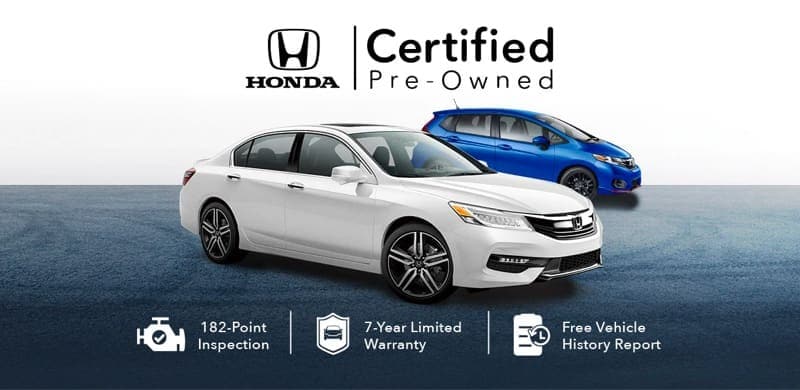 Certified Pre-Owned
Nothing compares to the quality of a Honda. No other program comes close.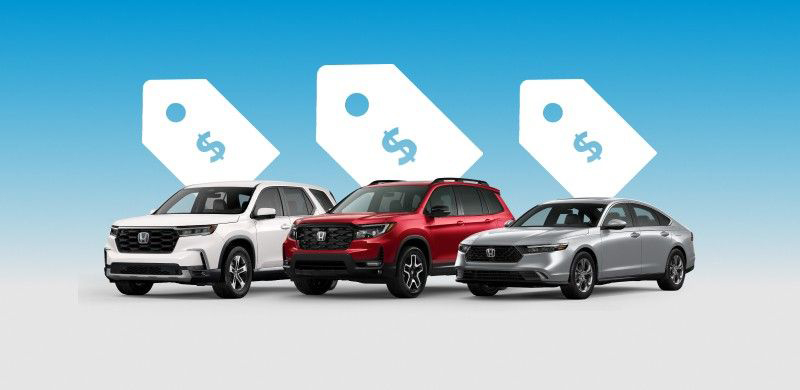 Current Offers
See this month's featured current offers going on now on new Honda vehicles.
Our Reviews
Matt Falciani was great to work with. I appreciate his helpful insight into which vehicle was right for me.
I purchased a new car yesterday. I cannot Thank my sale people, Rob Lason and Christie Hutson, enough for making my experience amazing. Thanks to Jenni Hoskins for making the process go so well. Great group of people.
Have been taking my car to Performance Honda on Fields Ertel for years. Have had great service with no complaints. Today's appointment was utilizing their pick up service of my car. Mike kept me informed throughout the process, answering questions and providing complete details. Thank you Mike for making me feel important to Honda!
My wife and I had the best car-buying experience we have ever had. Our sales consultant, Ryan S., was extremely knowledgeable and informative, personable, courteous, and respectful of our decision-making process. He stayed late to accommodate our schedule. We can't emphasize enough how knowledgeable and informative he was about the Honda Pilot we purchased, as well as, the history of the different model years of the car. This was the first brand new car we had purchased in many years and he took the time to explain to us and show us how to operate all of the new features in today's cars. We had visited other dealerships and they were pricing their new cars with $5-10k mark-ups to MSRP; Performance Kings Honda is not doing that. We would definitely recommend to friends and family going to Performance Kings Honda and asking for Ryan S.
Was the best dealership experience I have ever had. Our sales person, Andre, was most courteous and helpful. Would recommend this dealership to friends and family.
We had a great experience today at Performance Kings Honda! Jerrell Jordan helped us to find the perfect SUV for our family. He was not a typical pushy salesman. Honestly he was so easy to work with and helped us through the entire process! I would HIGHLY recommend this dealership and Jerrell to anyone I know!!!
We started at Jeff Wyler Honda of Colerain but I would never go back there. They tried to add on $7000.00 to the MSRP of a 2022 . We went to Performance Kings Honda and met Chris White. We agreed on a price in less than 5 minutes and we ordered a new CRV. We took delivery 2 weeks later and we couldn't be happier.
My wife and I were greeted by Chris White. We were pleased he would handle our transaction as he was quite personable and competent. He showed us to the 2022 Accord Hybrd Trg we were interested in; explained the differences in the two models on the floor and coordinated the trade in. We planned to pay cash; however there was an incentive available for us retired military; and the incentive was tied to the Honda 1.9% financing. So I decided to go that route. This was where Chris' help going above and beyond expectations was critical to closing the deal. I had frozen my credit many years ago; and I didn't know how to unfreeze it. Chris tried to resolve the issue and after several false leads we found I could establish a new account and unfreeze my credit that way. As a result Chris saved the deal and put two happy customers in the new car they wanted.
This was my first experience dealing with Kings Auto Mall. My sister and I were looking for a used car for her daughter (my niece). We looked at several different dealerships and ended up at Performance Kings Honda. The salesperson who greeted us was Greg Rice. I can't say enough about his customer service skills, honesty and integrity. He treated us with respect, even though we initially told him we were going to look at a couple of other vehicles before we made our decision. We made the decision to purchase the Honda CRV 2013 at Performance Kings Honda as it was the best option for my niece. When we returned Greg was there to assist us. I would have to give him a 10++++. Greg did everything he promised, even ordered and mailed a service manual to her. She also received a very nice letter from the dealership with two coupons for car washes at Mikes Car Wash. I can't remember the name of the gentleman we worked with in finance, however he was just as friendly and helpful. I relayed all of this to the manager who happened to be in the dealership. I have purchased many cars in my 70 years, some new and some used. I have to say this was one of the best experiences I've had in purchasing a car. The dealership was very clean and organized. Everyone was friendly and helpful. I will be in the market for a new car, possible in the next year and I definitely plan on starting with Performance Kings Honda. In a world where customer service is lacking Performance Kings Honda has top notch customer service and that is something I very much appreciate. Thank you for meeting and exceeding my expectations. Deborah Hensley
Worked with Andre Rosemond from start to finish he got me the best car. An what I wanted for price. He took the time to get me a rate I wanted to afford. Thank you Andre.
I couldn't of asked for better service. Melissa and AJ made a great team! They both explained everything really easy and worked hard together. Melissa even detailed my car! I will always highly recommend both Melissa and AJ!
I had a wonderful buying experience with salesman Jarrell Jordan. The process was smooth and fun. I would highly recommend the dealership and especially Jarrell!
Thank you to Michael Harris at Kings Honda. I needed a headlight replaced and it was stuck so I couldn't do it myself. I know everyone is understaffed so I brought my laptop to my appointment and figured I'd have a couple of hours to wait. When Michael was checking me in as the service advisor, he offered to see if he could replace it himself and save me the wait. And he did! I was in and out in 10 minutes instead of 2-3 hours. Thank you, Michael, for going above and beyond. I'll be back for service!
Did most all on the phone! They were ready and waiting on me! Was super helpful and a pleasure to work with! We would have been out of there in an hour if they did not detail the car again, which was a bonus! Never tried to pull the wool over my eyes like other dealerships and gave me an Awesome Deal!! Finance managers and I usually do not get along and this one was absolutely fantastic and took care of us! Thanks for such an easy transaction!
I highly recommend Jerrell Jordan at Kings Honda. He was kind and patient and did not feel like a stereotypical pushy car salesman. He was very honest with us and answered all of our questions while giving us more details and well researched information that helped us make the best decision. He went above and beyond and we would absolutely buy from him again. We've walked away from a different shopping experience here years ago (but have always serviced our other Hondas at this dealer), but after working with Jerrell, we will absolutely be return customers- as long as we have the chance to buy from him again.
Great car buying experience. They did not haggle with us. Did not take a long time. We told them what we needed and wanted and it was smooth sailing from that point on. David Andreiw is a great salesman and wasn't pushy or every trying to pressure us. We bought 2 cars. Highly recommend. Highly recommend these guys. Managers were professional handled everything professionally and with a great attitude. Did not even feel like the cliche car buying experience. Thumbs up to these guys.
I purchased a CPO Certified+ Civic LX Hatchback from the team a Performance Kings Honda. The experience could not have gone better or more smoothly. Dewayne Walker was great to work with, as were Ray Hattar (Sales Mgr) and Steve Lienberger (F&I). We negotiated a fair deal for the vehicle and I was out the door in under two hours. I'll definitely be back when we need to purchase another vehicle. I've taken my 2018 Accord Touring 2.0 there for routine maintenance and to have a recall addressed and the service team has always delivered first-rate service.
I bought a 2009 Honda Accord Coupe at Kings Honda. I had the pleasure of dealing with Cory Burgin. He was very courteous and professional and very attentive to what I was looking for. I want to say thanks to Cory for working with me. I it was an awesome experience. I will be back in the future very happy.
While I ended up not purchasing through them, I inquired about a vehicle and was promptly responded to by Rick S. I explained what I was looking for and he kindly looked and let me know what was available, and continued to check, and was not pushy what so ever. Even when I purchased a vehicle else where he congratulated me, and after car shopping for 4 months, I feel he should be commended as being one of the nicest people through this process I've come in contact with! Car buying is extremely stressful, but he was very kind and sincere. I would definitely consider seeking him out in the future!
When I went there Daniel O'Connell came right up and asked if he could show me any car. I was there to just look and he did not pressure me once. I liked the Honda Fit and asked if they had any 2019 left over. I needed a car that got good gas mileage because I live in the country. He was polite and talked with me about my needs. I ended up buying the car and never felt pushed. I feel I got a good deal. The whole process was easy.
Great customer sevice provided by salesman Dewayne Walker. Mr. Walker was courteous, patient, and very knowledgeable. Great experience start to finish.
I wanted to let customers and Honda know our great experience working with Stephen. While new to the role, he was quite helpful and low-keyed to work with as we sought and found our used car. He even came in early on a day to accommodate our schedule, and showed great trust as he allowed us to take the vehicle to a mechanic to have it assessed independently. He effectively worked with his manager, Eddie, to mediate some issues. I'll return there when we need to replace our other car.
We recently purchased 2019 Civic at Performing King's Honda. Tyler Moore, the sales consultant made the buying experience really easy and pleasurable. Tyler was really knowledgeable and easy going person to work with. He quickly arranged the model for test drive and provided all details and differences on two different models. Tyler also helped us to get the better deal. We really appreciate the service and the help Tyler provided to us.
I had a great experience and got exactly the car I wanted. Rob went over at length the features included with the car. My old car is 13 years old so there are many new features. I feel like I know most of them pretty well and really love the car!
My husband and I recently purchased a 2016 Honda Fit from Performance Kings Honda and were very pleased with the professionalism and flexibility of the personnel we worked with. Our salesperson, Angela Compton, was extremely knowledgeable and professional and the entire team worked with us to get the car we wanted at the price we wanted. We were very pleased and would work with them again on our next purchase.

Honda Dealership in Cincinnati, OH
Performance Kings Honda is the number one selling Honda dealership in Cincinnati. We strive to make your car buying experience the best it can be. From the moment you walk into our showroom, you'll see why we are your best option for a new Honda or used vehicle. Our customer service is second to none. We want to put a smile on your face and give you positive stories to tell your friends and family when you talk about buying a new car.
We have two stores to help you depending on whether you're looking for a new or used vehicle. Our brand new state-of-the-art facility across from the Kings Automall is there for customers looking to purchase a new Honda. If you are looking for a used Honda Certified vehicle or SUV, check out the inventory at our used car superstore, which is located in the heart of the Kings Automall. If you have any questions, give us a call at (513) 793-7777.
Why Buy A Car From Performance Kings Honda?
Want to know what sets Performance Kings Honda apart from other dealers? For one, we are a family-owned business that has been in operation for over 40 years. We are the only Honda dealership in the greater Cincinnati region that offers Sunday service hours. We feature free service pickup and delivery as well.
We offer market-based vehicle pricing using Performance MVP on all new and used vehicles, which ensures a fair and competitive price. We use Performance TVT Top Value Trade Appraisals based on Kelly Blue Book and other market data, so you will get the full market value for the vehicle you're trading in.
Should You Buy Or Lease A Vehicle From Performance Kings Honda? Unsure whether buying or leasing is right for you? When you purchase a vehicle, you need to pay for the entire cost of the vehicle over the course of the finance period. You'll have upfront costs in the form of a down payment or trade-in usually. Once it's paid off though, the vehicle is yours, and you can do what you want with it.
When you lease a vehicle, you are not the owner. You are paying for the use of the vehicle. Instead of paying for the entire cost of the car, you only pay for a portion of the vehicle cost, which is the portion you will be using when driving it. The upside is you typically don't have a down payment. You are responsible for the first payment, a security deposit, taxes, and other fees. When the lease is up, you can choose to return the vehicle or buy out the remaining money owed.
Get Pre-Approved Right Away
Save time and get pre-approved in seconds before you even come in to shop for a vehicle. You can complete the easy finance application form on our website, and you'll have a pre-approval notice within seconds. Once you receive your pre-approval, let one of our experienced sales team members help you find the right vehicle for your needs and budget. You could apply today and be driving off the lot with your new Honda the same day.
Trading In Your Honda Lease Vehicle
If you are leasing a Honda and your lease term is ending, you will need to return it to a Honda dealership. Choose to turn it in at Performance Kings Honda lease trade-in center, and you'll receive a $300 return incentive.
Don't wait until your lease is about up to decide what you want to do. It's a good idea to start thinking about your plans months before your lease terminates. Let an experienced team member at Performance Kings Honda discuss your options and help you find the right choice for you.
When your lease ends, your options include:
Return your Honda lease vehicle, and you can either lease or buy another new Honda.
Turn in your leased Honda early before the lease term ends.
Return your Honda lease vehicle to Performance Kings Honda, even if you didn't lease it from us originally.
Purchase your leased Honda vehicle.
There are pros and cons to each option — you just need to find the best option for your budget.
Learn About Our Honda Graduate Program
Congratulations, college graduate!
What would you do with an extra $500? Would you go shopping or maybe take a road trip? Qualified recent and upcoming college graduates can save $500 on any 2022 or newer Honda vehicle when you lease or finance it with Honda Financial Services. This program is a great way to build credit, and we give the option to defer your first payment for 90 days. To learn more about necessary requirements, see our
Honda Graduate Program
page.
---
Why Service Your Vehicle At Performance Kings Honda?
Even if you purchased your vehicle elsewhere, Performance Kings Honda is ready to service it. Wondering why you should have your Honda serviced here rather than another dealer? Our Honda Service Department offers:
A clean and comfortable waiting area with fast Wi-Fi access
Competitive and upfront pricing
Complimentary multi-point service check on all vehicles
Evenings and weekend service hours
Online appointment scheduling
Genuine Honda factory original equipment replacement parts
Technicians and master technicians with over 290 years of combined experience
Local service shuttle that is close to many retail and grocery stores nearby
We also include a Performance Care Package and roadside assistance with every oil change or maintenance interval service, which has a value of $330.
Contact Performance Kings Honda Today
If you are ready to purchase a new or pre-owned certified Honda, Performance Kings Honda is here to help. Contact our dealership today to schedule a test drive for your favorite Honda vehicle. Call us at (513) 793-7777. One of our knowledgeable sales teams will be there to help. We look forward to helping you find the vehicle of your dreams and making you a Performance Kings Honda customer for life.
Get Directions To Performance Kings Honda