Does Honda Have Electric Cars?
There's little doubt that the market for electric vehicles has seen immense growth over the last decade. If you're looking for a versatile electric car with great features and a longer range, Honda shows a lot of promise. Although the popular automaker doesn't currently have any EVs in their lineup, they're still currently leasing the Honda Clarity, an eco-friendly, fuel-efficient sedan that comes in two different forms: a plug-in hybrid version and a hydrogen fuel cell version.
Their other hybrids, the Accord, the CR-V, and the Insight, remain popular. They also plan to enter the EV market in just a few short years. Our team at Performance Kings Honda has put together this guide so you can learn more about Honda's plans to enter the EV market. Read on to learn all about Honda's current fuel-efficient offerings, in addition to their plans to start producing EVs. If you have any questions, give us a call at (513) 793-7777.
Does Honda Sell Any Electric Vehicles?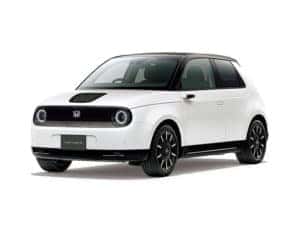 Currently, Honda lacks an EV lineup in North America, unlike a few other notable automakers. Even so, GM plans to invest heavily in the EV market and work towards a zero-emissions future by producing 30 new EV models by the year 2025. This includes selling as many as 70,000 EVs in the U.S. by the year 2024 and 500,000 by 2030.
Honda currently sells an EV in Europe and Japan, known as the Honda e. Despite the lack of battery-powered electric vehicles in the U.S., the automaker still allows buyers to lease the Honda Clarity, an electrified car with a plug-in hybrid option. Despite the automaker discontinuing production of the Clarity, it remains one of Honda's most fuel-efficient, multifaceted, and unique vehicles ever produced. Besides the Clarity, the Honda Accord has a hybrid option, along with the CR-V and the Insight, all of which have excellent MPG.
Does Honda Have Plans To Sell EVs?
Honda has plans to sell EVs in the future. GM plans to ramp up production of EVs in North America and will be helping Honda build its first all-electric vehicles with their Ultium electric architecture. Later in the decade, Honda plans to produce their very own EVs.
The 2024 Honda Prologue will be Honda's first official EV in the U.S. and will go on sale early in 2024, followed by the more luxury-centered Acura SUV. The Prologue looks to offer both versatility and a driving range similar to Honda's other SUVs. It's set to take the form of a compact or mid-size SUV and will use the same type of battery as GM's future EVs, like the GMC Hammer SUV. While GM plans to handle the electric powertrain, Honda will create the Prologue's interior features and exterior body.
Benefits of Electrified Vehicles
There are many benefits to driving an electrified vehicle. Not only can you reduce the amount of money that you end up spending on gasoline, but you won't have to spend nearly as much time at the pump filling up your tank. Lower emissions mean you can reduce your carbon footprint and feel better about not releasing nearly as much carbon into the atmosphere as you drive. Regardless of how often you drive, an electric or hybrid engine can improve your mileage and even reduce maintenance costs.
Honda Clarity Performance and Features
If you're looking for something closely resembling an EV, the Honda Clarity is the next best thing. The plug-in option gives you a range of 48 miles, plenty for your daily commute or running errands in the city. The fuel cell version runs with the aid of an electric motor that's powered by hydrogen fuel cell technology. A 174 horsepower electric motor delivers a strong performance, even at lower speeds. Included are an 8-inch touchscreen and a variety of great infotainment features, in addition to safety features like adaptive cruise control.
Honda Accord Hybrid Performance and Features
The Honda Accord Hybrid is both economical and stylish, with the added advantage of exceptional fuel efficiency. Unlike other hybrids, the Accord's battery pack doesn't affect cargo space, since it's conveniently located under the rear seats, out of view. The 212 horsepower engine accelerates quicker than a few of the other hybrids in its class. Included are an 8-inch touchscreen, a variety of handy technology, and an abundance of standard safety features designed to help you drive more efficiently and feel more comfortable.
Honda CR-V Hybrid Performance and Features
The Honda CR-V's hybrid version produces 143 horsepower and gets good gas mileage. If you're looking for something with a robust powertrain and good acceleration, the CR-V Hybrid is a great option. The innovative dual-motor electric powertrain enables it to achieve excellent fuel economy and drive quietly. With a 7-inch touchscreen, Bluetooth, and a variety of infotainment features, drivers and passengers alike can be kept entertained and connected. Safety features and popular driver assistance technology are also available, in addition to a moonroof and a remote start.
Honda Insight Performance and Features
With a high MPG rating, an efficient gas-electric powertrain, and an enjoyable interior, the Honda Insight is a pleasant hybrid to drive. Its gas engine and electric motors combine to produce 151 horsepower, and it's possible to run on electric power alone for a whole mile. Similar to the Accord, the battery pack is positioned so that cargo space can be maximized. Besides its impressive fuel economy, the Insight contains an 8-inch touchscreen and includes a number of popular infotainment features, in addition to built-in navigation. Safety features include adaptive cruise control and lane-keep assist, among others.
Find a Fuel-Efficient Vehicle at Performance Kings Honda
If you live in or around the Cincinnati area and are looking for a reliable vehicle with excellent fuel efficiency, our professional staff at Performance Kings Honda can help you find an affordable model that best fits your lifestyle. You can also check out our online inventory to see what we offer. We're proud to be the top Honda dealership in the area, and we hope to make your experience the best it can be. If you have a question about one of our models, contact us online, and we'll get right back to you.