How Traffic Congestion Should Affect Your New Car Choice
In an ever-changing global economy, the automobile business has continued to grow thanks to new technology, such as alternative power and convenient infotainment features. A few decades ago, there were comparatively fewer cars on the road. However, in recent years, traffic congestion has become a serious issue in many cities or metropolitan areas.
Performance Kings Honda in Cincinnati is at your side when you need a Honda or other vehicle suited to long or frequent stretches of stop-and-go traffic. Let's talk about traffic congestion and how you may want to consider it when buying a new car.
What Is Traffic Congestion?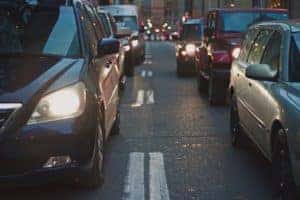 Traffic congestion refers to an overabundance of traffic to the point where vehicles fill the highway and can barely move. One of the biggest causes of traffic congestion is anything that limits the number of access lanes, such as an accident. Inevitably, this will slow down all cars driving in that direction because the same number of vehicles are getting crowded into fewer lanes. Traffic accidents and congestion can be caused by detours, roadwork zones, bad weather, or just the timing of signals, railway crossings, etc.
How Does a Traffic Jam Impact Your Vehicle?
In most American cities, traffic is unavoidable. If you drive frequently, you're almost sure to experience the occasional delay in your schedule due to traffic. However, lost time is only one effect to consider. While maintaining your vehicle and getting service will help, sitting for too long in traffic congestion has four major effects:
Wasting Fuel
The first frustration people likely think of regarding traffic congestion, besides lost time, is burning fuel. That lost driving range means you'll need a refill or recharge sooner. If you get stuck in traffic frequently, you may experience a lower overall fuel economy than the listed EPA values for your vehicle. This is because your vehicle isn't getting a chance to travel very far while using up its resources. It's worth noting that new Honda vehicles with automatic start/stop engines can greatly reduce idling fuel losses in heavy traffic.
Harder on Brakes
One of the effects of regularly dealing with traffic congestion is faster than usual wear on your brakes, including both the pads and the overall system. Usually, in a hurry to get out of the traffic jam, drivers speed up more than they need to. As a result, you may find yourself accelerating back up to reasonable speeds only to suddenly brake back to a stop.
Wears Down Fluids
Unlike oil and coolants, brake fluid does not normally become dirty or evaporate. It can, however, undergo stress and risk of leaks due to increased brake use and strain.
Another essential fluid is your engine coolant. With most vehicles, the engine intakes air as the car moves to help cycle out the heat of combustion. While idling in traffic, your coolant and cooling system does not have this benefit. Excessive idling, especially if some aspects of maintenance haven't been followed, means an increased chance to evaporate and reduce coolant levels.
Affects Drive Belt
The drive belt, or serpentine belt, is a key component that powers the air conditioner, power steering, alternator, and even the cooling system's water pump. The drive belt is positioned in front of the engine. It uses pulleys and tensioners to routinely deliver power to these accessories.
Drive belts typically last five years or around 50,000 miles without failure. However, the belt will eventually need a replacement because of the extreme heat and friction of daily driving. Hours in traffic congestion, or unnecessarily idling in general, can add to this type of wear and tear.
Signs of a problem with your drive belt might include front-end squealing, power steering issues, engine overheating, or visible belt cracks or wear. If you're concerned about the condition of your vehicle and whether it needs anything replaced or checked, visit or contact our Honda service center.
Best Cars for Heavy Traffic
You probably have set guidelines for what type of vehicle you need, like those with advanced safety features or the latest Honda infotainment system. It's also worth considering how much traffic you'll be dealing with. Having a car with a good maximum range and fuel efficiency rating is helpful, as is having solid brakes and a responsive, comfortable driving style.
Making the leap to a hybrid or fully electric vehicle might also be beneficial. Since fuel isn't continuously being burned to turn a motor, electric drivetrains only need minimal power to remain stopped and waiting.
More customers have been opting for fuel-efficient, subcompact, or compact cars in recent years. Customers want inexpensive, agile, easy-to-park vehicles like the Honda Pilot or HR-V. These vehicles usually also serve well during traffic-heavy commutes.
Buy a New Honda in Cincinnati
Beyond how many passengers you'll usually need to transport, remember to think about what kind of vehicle tasks and driving matter to you. If you need an affordable, stylish pickup that can also tackle the off-road, consider the Honda Ridgeline. If a crossover would be a better fit, the CR-V and HR-V are both efficient and generously equipped. You can find efficient powertrain features and other industry-leading design choices on new and recent Honda vehicles at our dealership.
Beyond choosing the right car, there are also driving tips that will help reduce the negative effects of traffic congestion. These include:
Avoid driving aggressively.
Maintain a safe "travel space" of at least three seconds between yourself and the car in front of you.
Where lanes are blocked off, be prepared to let traffic merge ahead.
Wait one second or more to accelerate after you notice the car ahead moving, and be ready to brake again when you see its brake lights glowing.
Our Honda service center can help you improve your vehicle's traffic readiness. And our sales and financing team can find a new model for your future journeys. Let us guide you through choosing the right Honda with all the features you need while also getting a fair market value for your trade-in. If you have questions for one of our service technicians about your commuter car, give us a call at (513) 791-9090. From safety to fuel economy and entertainment, browse for your ideal vehicle or reserve a new Honda with Performance Kings Honda of Cincinnati.
Image Credits: Image by Nabeel Syed is licensed with Unsplash License