All-New 2022 Honda HR-V Overview
When it comes to subcompact SUVs, there's no option more reliable than the Honda HR-V. The 2022 Honda HR-V is ready to build on its reputation as an SUV that offers some of the best value for money in the market. The next time you're shopping for a new SUV in Cincinnati, OH, you need to consider the Fantastic 2022 Honda HR-V.
2022 Honda HR-V Trims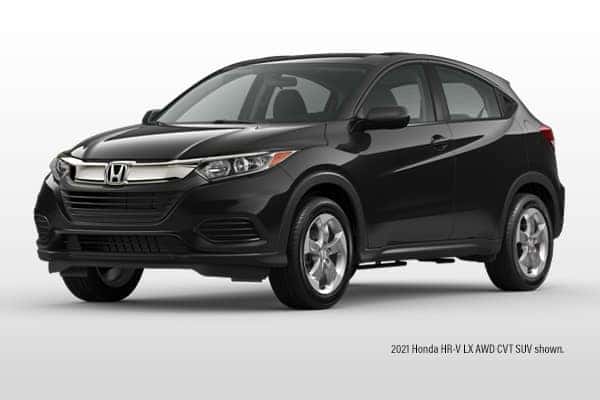 When shopping for a 2022 Honda HR-V, there are multiple trims to choose from in order to find your best fit. Each option has its own benefits, allowing you to find the trim that corresponds with your budget and needs the best. The four 2022 Honda HR-V trims are:
As the most basic trim available for the 2022 Honda HR-V, the HR-V LX is the perfect option if you put a premium on finding the best bargain. The LX still features many excellent features at an unbeatable price.
The Sport trim is well suited to those who like their SUV to look and feel sleek. 18-inch matte-black wheels provide a trim-exclusive style, while the interior sport pedals and leather-wrapped steering wheel and shifting knob complete the look.
The EX offers a premium experience, building off the performance of the LX and Sport and adding new features, including a push-button starter, programmable power door locks and automatic climate control.
The top of the line trim, the EX-L offers unique features such as an automatic-dimming rearview mirror and leather trimmed seats to match the same wheel and knob decorations of the Sport.
2022 Honda HR-V Technology Features
The technology features in the Honda HR-V ensure that you not only get where you're trying to go, but that you also enjoy your drive on the way. The technology options available in the HR-V include both entertainment and convenience options to make each ride as enjoyable as possible. Some of the top technology features of the 2022 Honda HR-V include:
Apple CarPlay and Android Auto
Connecting your smartphone is easy in the Sport, EX, and EX-L trims, with both Apple CarPlay and Android Auto integration enabled. This allows you to connect your smartphone quickly and easily, and access the full benefits of your smartphone's various car enabled applications.
Color LCD Display
All trims of the Honda HR-V feature a full color LCD display to make it easy to see information on your HR-V's various systems. The LX trim features a 5-inch display, while all other trims features a 7-inch display with touchscreen capabilities to make for even easier use.
Tilting and Telescoping Wheel
Getting your vehicle's steering wheel position just right allows you to be safer behind the wheel. It also makes for a more comfortable drive. The tilting and telescoping wheel of the Honda HR-V allows you to set your steering wheel at the location and angle that is most natural for your body, to make each drive as pleasant as possible.
Push Button Start
Getting your Honda HR-V started has never been easier than with the push-button starter available on the EX and EX-L trims. Just get into your vehicle while holding your key fob, and you can start your Honda HR-V by simply pressing the convenient button on the dashboard.
2022 Honda HR-V Safety Features
When shopping for your next vehicle, it's important to know that you're getting an SUV that keeps you and your passenger safe. The 2022 Honda HR-V comes with a range of safety features designed to help you avoid accidents, and offer protection if you are in one. Top safety features of the 2022 Honda HR-V include:
Vehicle Stability Assist (VSA) with Traction Control
The Honda HR-V uses a system of sensors to detect potentially hazardous conditions in order to make automatic adjustments within the HR-V. This allows it to reduce the potential for skidding and loss of control by the driver. VSA is available standard on all Honda HR-V trims.
Anti-Lock Braking System
The Honda HR-V features anti-lock brakes standard across all configurations. Anti-lock brakes help you maintain control of your Honda HR-V during an emergency, and avoid uncontrolled sliding when forced to hit the brakes strongly.
Adaptive Cruise Control
Both the EX and EX-L trims feature adaptive cruise control technology that helps you maintain safe speeds and following distances on the highway. With adaptive cruise control set, your HR-V automatically adjusts your speed as needed when vehicles in front of you slow down. This avoids the need to disengage your cruise control in order to avoid encroaching on slow-moving vehicles and allows your HR-V to resume its desired speed automatically once the road in front of you clears.
Warning Systems
The EX and EX-L trims also include systems to provide you with early warnings of potentially hazardous situations. Forward Collision warning notifies you when you are too close to other vehicles and will not have the required time to react if they stopped short. With collision mitigation braking systems, as well, your Honda HR-V can respond with automated breaking in order to provide you with help stopping your HR-V in time.
Steering Assistance
Road departure mitigation and lane keep assistance systems on the EX and EX-L trims further improve your guidance help. If sensors detect you are approaching the side of the road, or that you are drifting out of your lane when traveling on a multi-lane road, the Honda HR-V steering assistance systems can offer gentle course correction in order to help you maintain your heading and avoid a potentially dangerous situation because of drifting.
Find a 2022 Honda HR-V in Cincinnati at Performance Kings Honda
If you're shopping for a new SUV, let the experts at Performance Kings Honda show you what the 2022 Honda HR-V has to offer. We can help you find an HR-V trim and customization that you love, take it out on the road so you can see how it feels to drive it, and let you decide if it's your next SUV. If you have any questions, feel free to contact us online, then head down to the dealership to try a Honda HR-V for yourself. We hope to see you soon!