5 of the Best Summer Activities in Cincinnati, OH
When it's hot and humid outside, you want to find a way to cool down, and fast, in the greater Cincinnati, Ohio, area. At Performance Kings Honda, we have a few favorite venues and locations where we can cool down and still enjoy the amazing summer weather. Botanical gardens, outdoor playgrounds, zoos, and relaxing lazy rivers are just a few of the ways we like to experience this great city.
Cincinnati Zoo and Botanical Gardens
Image via Flickr by h2kyaks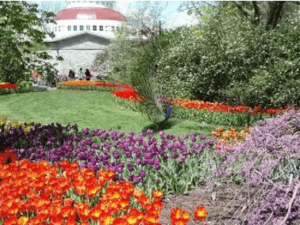 Your family will absolutely love spending a day at the Cincinnati Zoo & Botanical Garden. Opened in 1975, this amazing zoo is the second-oldest in the nation. It originally began with a small collection of animals that included over 400 birds, eight monkeys, six raccoons, three deer, two elk, two grizzly bears, a buffalo, a hyena, a tiger, an alligator, a circus elephant, and a talking crow. It was originally created on 65 acres of land in the middle of Cincinnati but has since expanded to include several city blocks and open spaces in the suburbs.
The zoo features a remarkable variety of animals from across the world. Be sure to swing by the amphibian and fish exhibit to enjoy amazing animals such as the poison dart frog, the fire-bellied newt, and the Japanese giant salamander. Learn about the world's birds when you see the blue and gold macaw, greater flamingo, and Raggiana bird of paradise. 
Visit the invertebrate exhibit and enjoy seeing the Brazilian salmon pink birdeater, emerald beetle, and Peruvian firestick. Spot several reptiles, such as the alligator snapping turtle, blue-tongued skink, and the green tree python. Of course, you can't forget the mammals. Along with the African lion and Asian elephant, you and the kids will love watching the black rhinoceros, Florida manatee, and Parma wallaby.
The gardens featured at the Cincinnati Zoo include a botanical garden gallery and several flower and plant exhibits. The butterfly garden is home to flowers and other plants that specifically attract butterflies, bees, and other pollinators. Enjoy high-nectar perennials, shrubs, and other plants in the pollinator garden. This fun and colorful area always has butterflies, moths, and hummingbirds frequently darting through the foliage. You may even spot a caterpillar or two. Each year, the garden presents a fantastic tulip display with more than 100,000 tulip bulbs to welcome the arrival of spring.
The Cincinnati Zoo does more than house and take care of both animals and plants. It's also highly involved in several conservation, animal care, and plant preservation projects. For example, the Plant Division of the Center for Research of Endangered Wildlife (CREW) performs research that's valuable for propagating and preserving endangered plants. Through various enrichment activities, zookeepers care for the mental and physical well-being of the animals.  
Winton Woods
Winton Woods is more than an outdoor park and playground. It's an outdoor nature complex that features plenty of opportunities for hiking, fishing, horseback riding, camping, and many other summertime activities. With over 2,500 acres, Winton Woods offers a wide range of paved and unpaved hiking trails, an 18-disc golf course, basketball courts, and more.
The campground has over 100 full-hook-up camping sites as well as deluxe and basic cabin rentals. There's a general store with basic amenities in case you've forgotten a toothbrush or supplies to make delicious s'mores. Parky's Farm is a 100-acre educational farm that features live animals, pony rides, and an indoor/outdoor playground. Kids absolutely love visiting the animals and having fun on the playground equipment.
If you love golfing, you'll have to take advantage of the two golf courses at Winton Woods. The Mill Course is an 18-hole course with grassy fairways that also offers four- or five-hole golf rounds for those who only have time for a short game. Learn how to ride horses at the Winton Woods Riding Center with experienced staff who can teach both beginners and more advanced riders. 
The Beach Water Park
The Beach water park is a 35-acre tropical island oasis with 22 slides, a heated wave pool, and an interactive kids' water play area with a 600-gallon dumping bucket. Your family will experience thrilling rides on sites such as the Riptide Racer, a four-lane racing slide, andthe Big Surf wave pool, a 750,000-gallon heated wave pool with a kiddie cove for toddlers and young children.
If you're looking for a more relaxing way to spend your day at the water park, then you need to visit the Kokomo Lazy River. Grab an inner tube and float your way through this 1,200-foot-long lazy river that winds all through the park at only 5 mph. Paradise Cove is a spa-like pool that's heated to exactly 86 degrees Fahrenheit. Relax in this pool surrounded by natural-looking rock formations and gorgeous waterfalls.
Sawyer Point Park and Yeatman's Cove
Sawyer Point and Yeatman's Cove is right along the Ohio River. You can find something for each member of your family to enjoy. Bring your children for an afternoon of running around the playground or splashing in the spray ground on a hot summer day. You and your friends will enjoy viewing amazing pieces of public art, walking along the gorgeous paths, or playing tennis or volleyball. Sawyer Point is also host to many local and national events, such as music festivals, cultural events, and several marathons and 5Ks.
Trammel Fossil Park
Donated by the Trammel family, Trammel Fossil Park is a unique place for families and fossil hunters to explore and enjoy. The Cincy area offers very few places to dig for fossils, making Trammel park a unique experience for all. It's safe and accessible and contains fossils that are still in good condition — many of them are over 440 million years old! Bring a lunch to enjoy at the nearby picnic tables. There's no worry about not being near a bathroom, as portable toilets and hand-washing stations are available.
Are you ready to do some exploring or playing in the Blue Chip City? Which one of these nearby places do you plan on visiting first? Whatever you choose to do with your family and friends, you're sure to have an amazing time creating some long-lasting memories. If we missed one of your favorite summertime locales, drop us a line and let us know. We'd be happy to add it to this Cincinnati summer activity guide.