2023 Honda CR-V Towing Capacity
Honda's favorite compact SUV is getting a full redesign for the 2023 model year, marking the beginning of the sixth edition of the CR-V. While we're still waiting for all the details to be finalized, we're expecting the CR-V to have a larger cabin, offering you more space to transport your gear while you're towing a boat or trailer. Here's a look at the CR-V's towing abilities and other key features our experts at Performance Kings Honda in Cincinnati think you should know about.
Honda CR-V Towing Capacity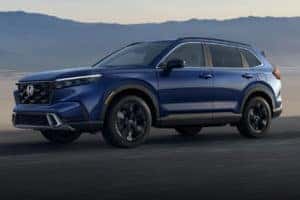 The Honda CR-V's towing capacity is 1,500 pounds, which is good for a compact crossover. This figure is based on the CR-V's turbocharged engine, but there may be a new power train coming out later in the model year. If this has an impact on the upper limit for towing, we'll be sure to let you know.
To give you a clearer idea of what 1,500 pounds means in practice, it's more than enough to cope with a modest-sized pop-up camper or a small boat. That makes the CR-V a perfect vehicle for a weekend trip to the lake or nearby campsite.
The CR-V competes well with other compact crossovers when it comes to towing. The Toyota RAV4, for example, can tow a maximum of 1,500 pounds in its base setup. With an optional hybrid power train, it manages 1,750 pounds. The Subaru Forester, another compact crossover, is rated to tow 1,500 pounds in most of its trims. One exception is the Wilderness trim, which increases towing to 3,000 pounds.
You don't have to look to other auto brands to tow larger loads. Honda has some larger SUVs in its vehicle lineup capable of pulling heavier loads, such as the mid-sized Passport, which has a 5,000-pound tow rating.
2023 CR-V Engine Specs
The CR-V's standard engine puts out 190 horsepower from its turbocharged four-cylinder setup. We don't have official mpg figures for the redesigned Honda yet, but it achieved excellent fuel economy numbers for a crossover in its 2022 configuration. In standard front-wheel drive, it achieved 28 mpg on city roads and 34 mpg on the highway. Opting for all-wheel drive reduced these figures slightly to 27 mpg and 32 mpg, respectively.
Honda CR-V Towing Features
The main towing feature offered in the CR-V is optional all-wheel drive. The AWD system provides you with improved control when you're driving with a load at the rear. It also helps if you're hauling a trailer or boat along a gravel road or other rough terrain. Another piece of helpful tech is the Vehicle Stability Assist feature, which helps to retain the CR-V's stability and poise on slippery surfaces and uneven terrain.
The CR-V is equipped with a regular towing hitch, but you can add some additional features with a towing package. These add-ons include a receiver-style trailer hitch, a clip, a drawbar, and a hitch harness.
CR-V Cargo and Seating
The 2023 CR-V is hitting the market with a slightly longer wheel base and more space in the interior. That means you can carry even more cargo at the rear than the 39 cubic feet of space that was available behind the second row of seats in the 2022 CR-V. The outgoing CR-V boasted over 75 cubic feet of storage with the rear row folded down.
Legroom and headroom are more than adequate for adult passengers to travel in comfort in the first and second rows, regardless of what you're towing at the rear. If you need to make use of more cabin space for cargo storage, you can partially fold down the second row using the 60/40 split for the rear seat. This feature allows you to retain the use of one second-row seat while opening up more cargo space.
If you stick to the CR-V's base configuration, you and your passengers will find cloth upholstery in the interior. A more upscale cabin is on offer, with optional features like leather seats, heated front seats, and a heated steering wheel.
CR-V Safety Tech
Staying safe on the road should always be uppermost in your mind, but that's even more true when you're driving with an extra load at the rear. Luckily, Honda equips the CR-V with various safety features for this purpose.
The standard automatic emergency braking system can help you come to a swift stop to avoid a collision. Adaptive cruise control ensures that you maintain a steady speed on the highway, which is even more important than usual if you're traveling with a trailer in tow. The lane keep assist and lane departure warning features help you navigate lanes safely. You can opt to add blind spot monitoring and rear cross traffic alert. Both of these features can make it much easier when you're maneuvering with the added bulk of a trailer or boat at the rear.
Pricing and Trims
Pricing hasn't yet been finalized for the 2023 CR-V, but we're not expecting it to vary much from the five trims offered by Honda last year. The 2022 model had an MSRP in the base trim of $25,750.
CR-V trims include LX, EX, EX-L, and Touring. The EX trim adds a power-adjustable seat for the driver, blind spot monitoring, and rear cross traffic alert. The EX-L trim features an upscale cabin with leather upholstery, a power-adjustable passenger seat, and a power liftgate. The Touring trim is a great choice if you do a lot of towing because it comes with standard all-wheel drive, which is only optional in the other trims.
As you can see from our towing guide, the CR-V has the power and equipment to haul an impressive load at the rear. Whether you need a vehicle to pull a small trailer, your motorcycle, or a Jet Ski, we think the CR-V is well worth considering. If you have any questions about this Honda crossover, don't hesitate to give us a call at (513) 793-7777 or reach out to us online at Performance Kings Honda.
Our sales and finance teams will be delighted to arrange the purchase process for you, including by offering competitive auto financing options in Cincinnati to fund your purchase.