2023 Honda Civic Interior Features
The Honda Civic is a popular smaller car available in several styles, including the sedan and hatchback. Each model comes in multiple trims with upgraded features, including the affordable LX Sedan and the luxury Touring Sedan with high-end features, such as leather-trimmed seats, larger displays, a wireless phone charger, a power moonroof, and a premium sound system. The sleek Si sedan and the top-of-the-line Type-R hatchback are more powerful sports versions of the Honda Civic that are great if you're a car enthusiast and want the most you can get out of your vehicle.
The 2022 Honda Civic was given a major redesign that improved its performance and drivability and updated modern interior and exterior styling. The 2023 Honda Civic carries on with this sleek new look and improves upon it with even more features. With this model, you get the most up-to-date version of the Civic with everything you could want in a new car. If you're interested in the latest model and want to know all about its interior features, then read on to learn about everything you can expect to find in it.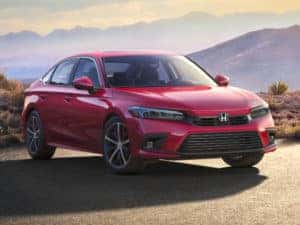 Interior Overview
If you're considering the latest Honda as your next car, you'll want to know all about the interior, where you'll be spending all your time while driving. The interior of the 2023 Honda Civic has a lot to offer, with a spacious design that gives you ample cargo room and seating that can accommodate tall as well as shorter folks. It features a sleek and simple dash that is easy to use, with a touchscreen infotainment system and integrated smartphone connection so you can use your Apple CarPlay or Android Auto-enabled devices while you travel.
Seating
You'll be assured of stylish seating in the 2023 Honda Civic regardless of which model and trim you opt for. This car has room for five people, with plenty of legroom and head space in both the front and rear seats. The sporty Type R hatchback gives you red fabric seats with a suede-like appearance and matching trim and floor carpet, while the Si offers snazzy red stitching on the seats as well as the wheel, doors, and other fabric-covered parts of the interior. The Type R also features red stitching on the black steering wheel and gear shifter.
Dashboard Design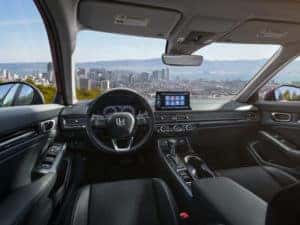 The dashboard's minimalist styling gives you a clutter-free look that lets you focus on the important stuff. Three round knobs give you control over heating, cooling, and airflow, and the dual-zone climate control lets you and your front passenger set your own separate temperatures. A narrow grill in a hexagonal chicken wire-like pattern runs the length of the dash, neatly concealing the air vents. The infotainment system display screen is at a height that makes it easy to see without taking your eyes off the road for safer driving, and the controls are easy to reach and use.
Infotainment and Integrated Systems
The 2023 Honda Civic offers you the latest in infotainment technology with its 7-inch touchscreen display that is upgraded to 9 inches on the Touring trim and comes standard on the Si and Type R models. You can use your Apple Carplay or Android Auto-compatible smartphone to connect to the integrated system and access your music library, maps, text messages, and more via the touchscreen with programmable shortcuts to your favorite apps. Connect your phone to the system with a USB cable, or use the wireless option that is available on some trims and models.
If you opt for the higher-end models, you can enjoy high-quality audio through the 12-speaker Bose Premium Sound System, giving you the ultimate listening experience for all your cruising tunes. Another excellent feature is the Honda Satellite-Linked Navigation System, which lets you use its maps offline. Even if you're in a location with no cell service, you can still find your way to your destination. You can also download the HondaLink app to keep track of and stay up to date on your Honda Civic's mileage, fuel range, and oil life, all remotely monitored from the convenience of your smartphone.
Cargo Space and Dimensions
If you're a numbers person, you'll want to know exactly how much cargo you can fit and what the interior dimensions are. Unfortunately, the numbers aren't out yet on the 2023 Honda Civic, but they should be similar to the 2022 models. The trunk of the sedan offers 14.8 cubic feet of cargo space, while the hatchback has nearly 10 extra feet at 24.5 cubic feet of room. The 60/40 split fold-down rear seatback lets you rearrange the interior to get even more cargo space for those days when you have a little extra to haul.
The interior of the Honda Civic has a spacious design that provides more than ample room for most people's needs. Here are some of its measurements that might be helpful to you if you're curious about how much space it actually has. This list gives information for you and your front seat passenger as well as back seat passengers.
Front headroom: 39.3 inches.
Rear headroom: 37.1 inches.
Front legroom: 42.3 inches.
Rear legroom: 37.4 inches.
Front shoulder room: 57 inches.
Rear shoulder room: 56 inches.
Front hip room: 54.3 inches.
Rear hip room: 48.9 inches.
Passenger volume: 99 cubic feet.
If you're looking for a car that drives well, is fuel efficient, doesn't compromise on style, offers an attractive and well-designed interior, has the latest in integrated technology, and can seat five people with cargo room to spare, then the 2023 Honda Civic might just be your dream car. If you're interested in learning more about this or any other Honda, then don't hesitate to contact us at your local Performance Kings Honda in Cincinnati, Ohio. Our knowledgeable team will be able to assist you with finding the right and can answer any questions you may have.
Images via honda.com