2021 Honda Insight Hybrid
While the 2021 Honda Insight Hybrid is powered by a combination of electric motors in addition to its gasoline engine, it feels very similar to the popular Honda Civic. It's basically an outstanding compact sedan with very impressive gas mileage. However, fuel cost savings aren't the only thing the Insight Hybrid has going for it. 
New for 2021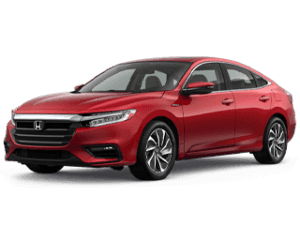 If you're thinking of getting a new Insight Hybrid, check out the new color added for 2021: Radiant Red Metallic. There's no reason being practical can't look sharp, and Honda knows it. 
One of the safety features was upgraded as well. Previously, the LaneWatch system provided a view of the blind spot on the passenger side of the vehicle. Now a warning light will be illuminated when the system senses something in a blind spot regardless of which side of the car it's on.
Performance
The 2021 Honda Insight Hybrid handles beautifully. Its steering system is quick, so the vehicle is wonderfully responsive when changing directions. Also, its suspension system is quite supple, so you will be far less bothered by bumps in the road. The powertrain is notably quiet and refined as well. However, the Insight Hybrid really outmatches its peers in two of what are arguably the most important factors while driving:
Acceleration
The 2021 Honda Insight Hybrid is significantly more effective at striking a balance between stingy fuel economy and spry acceleration than most other hybrids. In fact, it's pretty much as speedy as most gasoline-powered compact cars, which is far quicker than typical hybrid vehicles.
The Insight Hybrid's electric motors and gas engine together produce a total of 151 horsepower, taking it from zero to 60 mph in a mere 7.7 seconds. The car can run for about a mile using just the electric motors at lower speeds, but the gas engine will seamlessly kick in as soon as you request brisk acceleration.
Braking
Hybrid vehicles can often be plagued by clunky brakes, but the brakes on the 2021 Honda Insight Hybrid are both progressive and predictable. As a matter of fact, you probably won't notice a whole lot of difference between the brakes on the Insight Hybrid and a traditional gas-powered vehicle.
This is particularly important because the fuel savings hybrids provide are mostly found in city driving, rather than highway driving. Drivers tend to do a lot of stop-and-go driving and will really appreciate the higher quality of the brakes in the Insight Hybrid.
Interior
You'll find that the 2021 Honda Insight Hybrid is both spacious and elegant, with a noticeably more upscale feel than the Civic it so closely resembles. It stands up very well in comparison to other hybrids. Not only does it offer plenty of room to stretch out in the front seats, but two adults can sit quite comfortably in the back seats as well. Also, the digital gauge on the instrument panel is customizable, so you can choose from a variety of information to display.
However, the most notable feature of the Insight Hybrid's interior is that it is a true sedan with a regular trunk, rather than the hatchback design most hybrids use. The trunk has a significantly greater capacity and is much easier to load than a hatchback. This model even comes with a few bins already placed in the cargo area.
The rest of the storage capacity in the Insight Hybrid should meet with your full approval as well. You can choose the configuration of the very useful center console, which can hold a surprising number of personal items. Also, since the vehicle's battery pack is under the back seat, it doesn't take up any valuable cargo space. Plus, the rear seats fold almost completely flat, so the Insight can accommodate larger items.
Safety
The 2021 Honda Insight Hybrids are engineered to protect all passengers in a front-end crash, and they all come with the Honda Sensing suite of safety features. These include:
Forward collision and lane departure warnings

Road departure mitigation and lane-keeping assist systems

Collision mitigation braking and traffic sign recognition systems

Adaptive cruise control
Additionally, all the trims include:
Vehicle stability assist with traction control

Anti-lock braking system

Multi-angle rearview camera

Acoustic vehicle alerting system 
Trims
The 2021 Honda Insight Hybrid is available in three trims: LX, EX, and Touring.
LX
The LX has truly impressive features for a base model:
Push-button start

3-Mode Drive System

Honda Sensing

Multi-angle rearview camera
EX
All the LX features are found on the EX, plus several others:
Smart Entry with Walk Away Auto Lock

Blind Spot Information System

60/40 fold-down rear seatback

Apple CarPlay and Android Auto
Touring
In addition to all the other features found in the two previous models, the Touring edition also offers:
Wi-Fi hot spot capability

One-touch power moonroof

Leather-wrapped steering wheel

Leather-trimmed seats

Heated front seats
Fuel Economy
In addition to the standard driving mode, you can switch among three other modes with the simple push of a button. ECON Mode will improve fuel efficiency, while EV Mode switches the car to electric motor only. Choosing Sport Mode will considerably enhance your driving experience. 
Deceleration selectors are mounted on the steering wheel so you can control the regenerative braking, which will enable the battery to recoup energy. You can expect to get 55 mpg from the LX and EX trims and 51 mpg from the Touring Edition. 
Infotainment
All the 2021 Honda Insight Hybrid vehicles have an infotainment screen with modern user-friendly interfaces. The LX trim's screen is 5 inches, while the upper trims' screens are 8 inches. These systems come with a host of standard and optional features, all the way up to a premium audio system with 10 speakers and a subwoofer.
The Insight Hybrid is perfect for anyone who wants a truly excellent upscale compact sedan with remarkable gas mileage plus loads of storage and safety features. Contact Performance Kings Honda to arrange for a test drive so you can personally experience everything this efficient and exciting vehicle has to offer.