Spotting the Signs of Battery Failure
Several signs will indicate when your Honda's battery is failing. If your head, tail, and/or interior lighting shine more dimly than they should, your battery may be kicking out insufficient power. One of the most mistaken signs of a failing battery involves the failure of one or more electrically powered systems.
If this happens repeatedly, it may be wise to charge a standard format battery and re-test the system. Replacing the battery is likely much more affordable than replacing the system by mistake. Another common sign of a failing battery is its inability to hold a charge for an extended period.
It's probably time to replace your battery if you have to jump off your Honda every time you use it. Make sure you have your alternator checked if this is the case. It's possible that the system is failing to recharge the battery through normal use, though the battery seems to be in good order.
If you spot heavy corrosion build-up around the battery connectors, note low battery fluid levels, or see that the battery case is damaged, replace your battery immediately, and do not attempt to drive using it. Operating vehicles powered by batteries in these deteriorated conditions can cause catastrophic system failures.
Factors Impacting Battery Life Span
Many different environmental and operational factors can impact the life span of a Honda's battery. Excessive heat during summer months or artificially heated environments can increase the rate of corrosion within a battery. Very cold environments hamper a battery's ability to channel enough electricity to start the vehicle or power its digital systems.
Frequently starting a vehicle can drain its battery more quickly. Very long drives can cause partial or total battery drain. Frequent short drives can cause a battery to drain for lack of a chance to recharge through the alternator. A battery can also die if its vehicle is unused for between one and two months. Electrical systems that do not undergo regularly scheduled maintenance can cause battery drain.
Honda Battery Warranty Coverage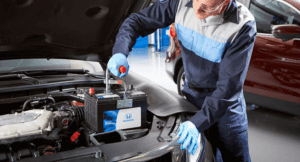 If you need to replace your new Honda's original battery, odds are the Honda New Vehicle Limited Warranty covers it. This warranty lasts for three years or 36,000 miles, whichever comes first. The Honda 100-month battery warranty covers the replacement of a battery purchased from a certified Honda dealership. Our service center team will replace your Honda battery, covering the unit, labor price, and installation at no cost for the first 36 months of the warranty. The remaining coverage period grants drivers access to credit for partial coverage.
Performance Kings Honda's Exceptional Battery Services
Our professionally trained full-service technicians are ready and waiting to handle all your battery-related needs. Want a standard flooded, enhanced flooded, or absorbed glass mat battery for your Honda? We've got them sized to fit all our model years. We can also help if you find issues with other electrical systems, such as corroded connecting lines, failing alternators, or faulty electrically powered cabin systems.
Come into Performance Kings Honda when the time comes to have your battery replaced or your electrical systems serviced. Your Honda's owner's manual contains specific details on when replacement and servicing are needed. Schedule a service with us, and our professional repair crew will have your Honda in perfect running order in no time.