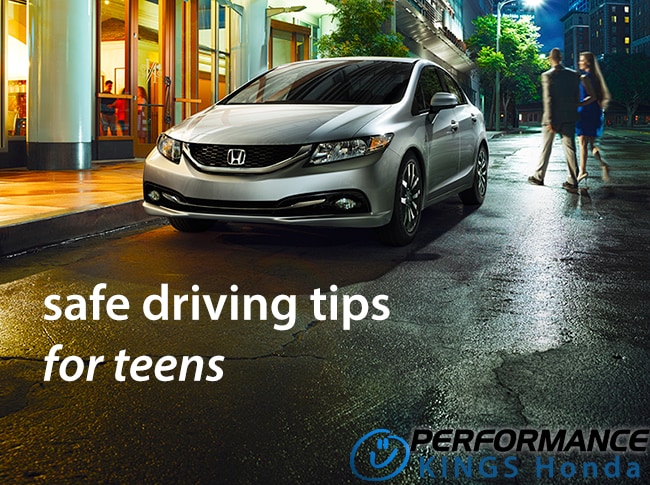 A 16th birthday can be incredibly exciting for your child, but a little nerve-wracking as a parent. Here, we've rounded up a few tips to make you feel a little better as you hand the keys over to your teen.
No phones
Texting while driving caused
1.3 million crashes in 2011
. No surprises here: texting, Snapchatting, or even talking on the phone makes a driver less focused on the road. A lot of parents suggest turning the phone off before you turn the car on; we also recommend putting the phone in the trunk. That way, you can't even be tempted to reach for it while driving.
Limit passengers
In Ohio
, during the first 12 months of driving, teens are legally only supposed drive one non-family member at a time... for good reason.
According to AAA
, a teen driver's (16- or 17-year-old) risk of being killed in a crash quadruples when he or she has 3 or more passengers younger than 21 in the car. The good news: the risk decreases by 62% when an adult age 35 or older is in the car.
Limit other distractions
Beyond just the phone, be sure to talk about other distracted driving habits. Loud music, trying to eat a fast food meal, or finish applying makeup also make it much more difficult to drive.
Be a "defensive driver"
Even if your teen is a perfect driver, you'll still worry about all the other drivers on the road. Some insurance agencies recommend practicing "defensive driving" and even offer courses on the subject. The basics of defensive driving mean being aware of all the other cars around you, and keeping a safe (read: at least one car length) distance between your car and the car in front of you. This minimizes risks from sudden stops.
Choose a safe vehicle
Sending your child out to drive on her own feels a little less scary when you know that car is an
IIHS Top Safety pick
. At Performance Kings Honda, we recommend the
Honda Civic
as a great car for teen drivers: it's stylish, budget friendly, and most importantly-
incredibly safe
.
If you're looking for a safe, used vehicle, also have a huge selection of
used cars and SUVs
in our inventory at our dealership in Kings Automall. Stop by for a test drive or check out our
used inventory online
.